Grid Sampling
We sample at different grid sizes ranging from 1 to 2.5 acres. We mark and gather multiple cores from each grid to be processed in our lab and the results organized by each individual grid.
Laboratory
The Farm Clinic has its own lab that can process your soil samples. You can download a submittal form here, please include with any samples sent to our lab. If sampling supplies or instructions are needed contact us so we can help insure a quality soil sample is taken.
Soil Tests
Our soil tests include soil pH, lime requirement (buffer pH), phosphorus, potassium, calcium, magnesium and cation exchange capacity. Also trace elements/micronutrient tests including zinc, manganese, copper, iron and sulfur.
Color Coded Test Results
This is an example of the maps included on our soil test report. You can download a full example of a report here that would be given to a grid sampling client.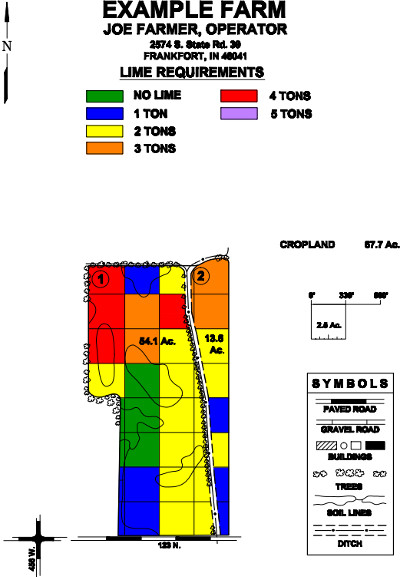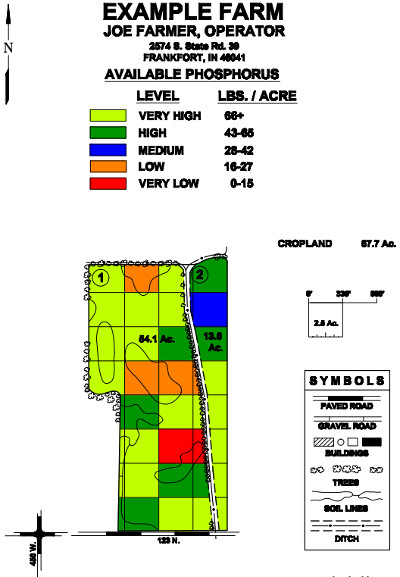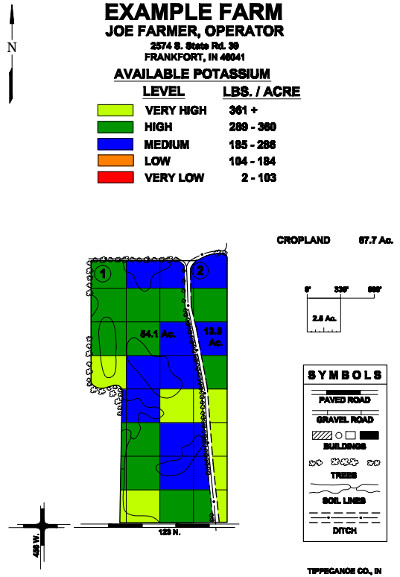 Farm Clinic Recommendations Program
Soil fertility recommendations are incorporated into our program that utilize the soil test information, crop yields, soil type, cropping and management history, as well as future cropping plans to develop recommendations for lime, nitrogen, phosphorous, and potassium and micronutrients when requested. Our recommendations utilizes variable rate technology when economical to help implement soil fertilty recommendations to maximize profits.
Using Yield Data for VRA and other analysis
The Farm Clinic can use your yield data to develop crop removal rates for a field and incorporate soil test data to better place nutrients where they are needed. Yield data can also be used to create variable rate seeding maps to help apply seed on richer soils at higher rates and lower rates on thinner soils. We have the capabilities to analyze the correlations or interactions between soil test levels and yield. For theses things to work properly it is paramount that "good" yield data is taken by the combine, this means calibrating the yield monitor properly.
Soil Test Reports and VRA Files Online
The Farm Clinic is now able to provide soil test reports and VRA files online to customers so you have access to your information 24/7. Contact us for more information about this service.
Pasture Consulting
The Farm Clinic's equine division began specializing in horse pastures during the 1950's when we began doing work on thoroughbred breeding farms in Lexington, Kentucky. Since then the equine division has grown to encompass over 250 horse farms across the United States, Europe, and Asia. Our goal is to optimize the nutritional balance on the grass to produce horses with good, strong bone and fewer developmental problems. We take into account not only the current fertility, but also the anticipated use, grazing pressure, importance of asthetics, and other non-agricultural factors.
Addition Services Include
Quarterly Farm Walkovers – regular visits to assess the state of the pastures and address any improvements that need to be made, such as rest, seed, or herbicide. These will include maps showing exact seed mixes and areas to be seeded.

Forage or Hay Analysis

Edophyte and Ergovaline Testing in Tall fescue

Recommendations for Tall fescue Eradication

Farm Mapping

Heavy Metal Testing

Water Analysis
Published articles about our work
"The Grass Man" featured in The Blood Horse.
"Spring Pasture Care and Maintenance, Good Pastures Make Good Horses" featured in Equine Farm Management.